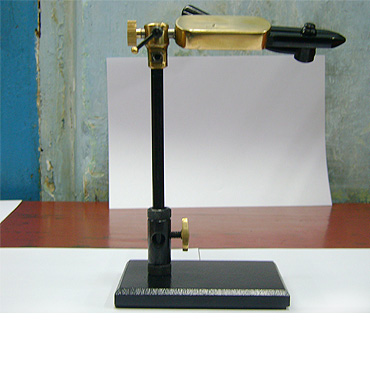 Nameo Royale Vise Square Base (F-1803)
$11.00
NAMEO ROYAL VISE. SOLID BRASS HEAD IN WHICH SPECIAL TOOL STEEL JAWS ARE FIXED. JAW OPENING & CLOSING EFFECTED BY LEVER HANDLE. SHORT STEEL SHAFT WHICH FITES INTO GOLD PLATED BRASS SOCKET ON HEAVY ROUND BASE. FIVE GOLD PLATED BRASS SOCKETS ON THE BASE TO HOLD SAMLL TOOLS. VISE HEAD ROTATES ON ITS AXIS. SMALL RECTANGULAR /ROUND BASE PLAIN SURFACE. STEEL SOCKET TO HOLD SHAFT OF VISE.
Additional information
Help & Contact
If you have any questions or need further information, please refer to our  Contact us Page and our customer services team will get back to you promptly.